posted in
Uncategorized
|
Before I run out of steam I want to post a picture of my birthday present from Handsome.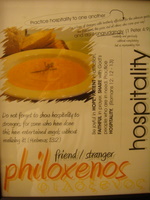 If you click on the picture you can enlarge it to see it better. But you'll notice that that the bottom is says Philoxenos, which is the name of my blog. It also has the literal translation in English above and the original Greek below. The colours even match the colours of my blog. They're happy colours.
I was so impressed by this gift, which is framed and hanging in my kitchen. Handsome did a good job. Very thoughtful and really perfect for me at this time.