posted in
Uncategorized
|
Tonight I'm doing the happy dance for two reasons.
1) Cutie, 2yo, has gone on the potty three times in the last two days completely  of her own accord. Woo hoo!! She was liberally rewarded with M&Ms, which were left over from Christmas. Handsome has taken her out, alone, which she thinks is so cool, to replenish the M&M supply and buy some special panties just for her. I wasn't planning on potty training her until just before Easter. I had marked a week on the calendar so I would have no commitments outside the house. But sometimes, you just have to go with the flow.
2) And in some ways this one is even better because yesterday a 20 year old dream of mine came true. 20 years I have been waiting to become the owner of this: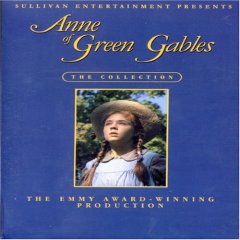 Guess what I'm doing tonight after the kids are in bed?? Watching Anne!! I remember when I was growing up I used to go to the early church service on Sundays, followed by Sunday School, and then I'd go home (we lived on the church property in the parsonage) and turn on PBS and during the ask-for-money-athon they'd play the Anne movies. Anne and Gilbert meeting on the bridge after she thought he was getting married… *sigh*
Thank you to my in-laws for a very special birthday gift. I also bought a rolling pin and some baking sheets, which will get lots of use, but these movies… 20 years I've been waiting!!!