posted in
Uncategorized
|
I wanted to commemorate Precious's first day of homeschool kindergarten with a picture on my blog. I took a photo for our family's memories which included a sign with her real name, but I can't figure out how to blur her real name, so I'm going to include a picture I took of a craft/snack that we made.
We are using Five In A Row as our curriculum. This is a literature based unit study programme, which I'm finding very easy to use. The idea is that we read the same book for five days in a row, picking out different aspects each day. Because Precious is only four and a few months, we're starting pretty slow, so from now until June we'll do one book every two weeks, but we'll only school three days a week, so I'm planning six days of schooling every fortnight.
Our book for the first fortnight is Katy and the Big Snow, by Virginia Lee Burton. To go along with the snow theme, we're going to study winter-related things, like snow and hibernation and ice. We're even taking a field trip to the snow in a couple of weeks!
So for our snack/craft today I got out the large marshmallows, some raisins and pretzel sticks and the girls made snowmen.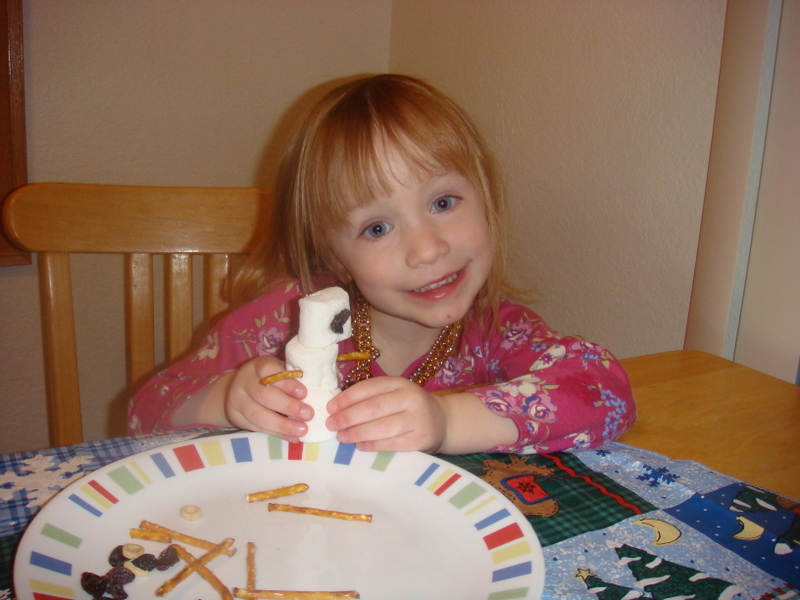 And we went ice skating! Cut out a couple pieces of wax paper and 'skate' on the carpet. It was great fun and I could even twirl around. But once the waxy stuff started wearing off it wasn't as easy.
After Cutie went down for a nap we worked on handwriting and math. Precious has been writing her name for several months but she uses only uppercase letters. She taught herself essentially so I wasn't fussed about it. But today I started teaching her the lower case letters of her name so she can write her name properly.
And then of course we had to do a bit of M&M math as a reward for a job well done today.
And now Mom needs a nap, so I'll sign off!