I have chosen to take a challenge from a blogger: Play outside with my kids for 30 minutes every day in the month of April.
Now, my kids play outside every day, but it's usually me shoving them out the door to play while I use the quiet inside to get a few things done. I can see the backyard very well from our kitchen/great room, so I  know what they're up to. But this challenge is about getting outside with them.
Today we have a park play date, so that will be fun and easy. I imagine a lot of our days will be spent at the park, getting as much play time in as we can before the temperature tops 100. I look forward to doing some other fun things too, like taking a bike ride on one of the trails. Or maybe finding some roller skates?
Will you join me?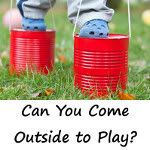 posted in Come Out and Play | 0 Comments