Our sale records at the county office this morning and then we're home-owners! WOO HOO!!
I'm in the middle of packing up our kitchen in our apartment. Yech. But here is a picture of our new kitchen! I've waited to post pictures of our home until we really really owned it. But now that it's ours, you can see it! And it will probably never be this clean again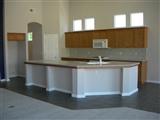 That is a really horrible picture because I tried to enlarge it and obviously I don't know how to do that. But you get the idea. It's a big honkin' kitchen with walk-in pantry (that's the door you see). The doorway leads to our school room, which is officially a formal dining room, but we won't use it for that because then we have this huge space to put our table: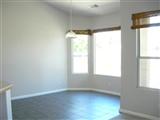 I realise it's hard to get perspective, but this is a very big area, plenty big for our (new to us) dining table, which extends out to seat 10.
And then the rest of the area looks kind of like this: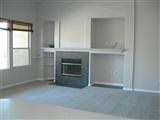 Any ideas what to do with the fireplace since we won't ever use it? And we don't have a TV or stereo either, so what to do with those media niches? Ideas welcome.
I am so excited about our home. God has blessed us richly with a fantastic home, more than we ever dreamed of. We have prayed many times that God will use this home for his glory and I have personally prayed that people who walk into our home will feel the presence of our Almighty God. I'm already looking forward to meeting our new neighbours and sharing with them about our Saviour.
And you're always welcome to visit

posted in Uncategorized | 3 Comments